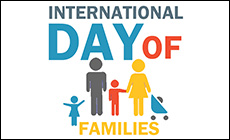 Saint Vincent and the Grenadines joined the global community in observing International Day of Families, on Monday 15th May, under the theme: "Families, Education and Well-being".

The day was set aside to raise awareness of the role of families in promoting early childhood education and lifelong learning opportunities for children and youth.

Mrs. Bernadine Dublin, Senior Assistant Secretary in the Ministry of National Mobilisation, Social Development,Gender Affairs, Persons With Disabilities, and Youth, said that the influence of family in the society has been declining.

She also highlighted the significance of the International Day of Families, in focusing attention on the role of the family in the society.

Mr. Conroy Huggins, Co-ordinator of the Project Men 20/20, said that men need to recognise the importance of their role in the family and become more responsible as fathers and husbands.

Mr. Huggins also agreed with the view that the influence of the family in the society is weakening.




SOURCE: NBC