The Opening Ceremony of the Liberty Lodge Boy's Training Centre in Green Hill, took place on Monday 19th, March, 2018.
The Ceremony was held by the Juvenile Justice Reform Project Phase II in collaboration with the Government Of Saint Vincent And The Grenadines.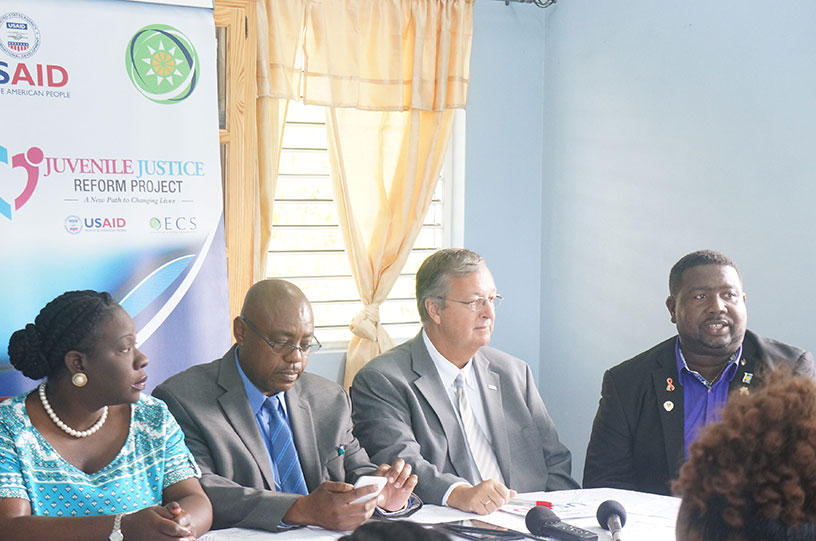 Remarks came from serveral persons. Opening and welcome remarks were made by Mrs. Bernadine Dublin, Senior Assistant Secretary within the Ministry of National Mobilization and Ms. Jemma Alexander, Director of Child Development, from the Ministry of National Mobilisation. Remarks were also given by Dr. Grace-Ann Cornwall, head of the Social Development Unit OECS Commission, Mr. Christopher Cushing, Mission Director of the United States Agency for International Development (USAID) Eastern and Southern Caribbean, Honourable Frederick Stephenson, Minister of National Mobilisation, Social Development, Local Government, Gender Affairs, Family Affairs, Persons with Disabilities and Non Governmental Organisations and Mrs. LaFleur Quammie-Harry, JJRP national focal point coordinator, presented the closing remarks.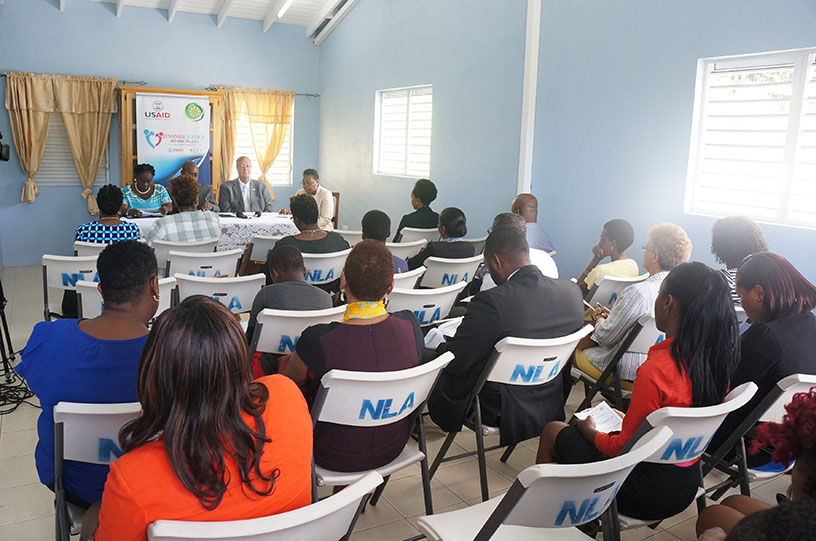 It was hihglighted that there are several issues affecting child care and that there were services put in place to address those issues.
It was also noted that there are programmes and services which are offered to address the needs of the boys in conflict with the law. Among such services include; critical life skills, anger management, mentoring among others. USAID was thanked for the partnering work that they have done in collaboration with the Government Of Saint Vincent And The Grenadines.

Programmes and improvements made at the institution were mentioned to highlight some of the improvements made to the facility.
It was noted that USAID is committed to the regional governments, to assist young boys and address juvenile justice reform in the Caribbean.

 A number of initiatives have been taking place to strenghten the capacity of the institution. Some of these include; better services; legislation support (particularly the Child Justice Bill of 2018), which is expected to have its first reading in parliament in April, 2018, new programmes to address issues for boys in conflict with the law, training for various stakeholders and the establishment of a probation unit.

The 'Pan agaist crime' steel pan group entertained the gathering. The audience was then shown the completed works on the facility.

The Juvenile Justice Reform Project-Phase II (JJRPII) is a partnership between the OECS, USAID and participating members states in the Eastern Caribbean to expand the use of rehabilitative and restorative practices in providing services and support for children who come into conflict with the law.

JJRP II supports:


Formalized diversion of youth from the courts and the custodial sentences, through systems which serve their rehabilitative needs;


Rehabilitation of youth offenders, underpinned by evidence-based diagnosis and treatment; and  


Successful reintegration of children leaving detention, as they return to families and communities.
SOURCE: Information Technology Services Division (I.T.S.D)