The Ministries of National Mobilisation and National Security, through their Divisions of Youth, (YES Program), and Royal Saint Vincent and the Grenadines Police Force [RSVGPF], (Police Band), signed a collaborative Memorandum of Understanding (MOU), on Monday 29th January, as part of an initiative being dubbed "YES Band Apprentice".
The YES Programme was officially launched in August 2001. It has allowed many youth to obtain experiences in the job market. The YES programme provides benefits to many sectors including Education, Social Services, Health, Agriculture and even the private sector. Participants are engaged in a wide variety of areas, including secretarial/office administrative duties, basic laboratory procedures, physiotherapy, dental care, physical education, early childhood and child development, record keeping, auto mechanics, tissue culture processing and plant propagation.

In recent times, the program has evolved and provided services that traditionally were not in the original plan or concept.  This included two cycles of floral arrangement training to youth in the North Leeward and in Marriaqua Constituencies.  This saw some fifty (50) plus youth in total, completing this program. Further, in 2017 the Ministry, in a collaborative effort, partnered with the Mustique Charitable Trust and VINSAVE, to conduct a baby-sitters program, which is an introductory program for persons who have an interest in the area of Early Childhood Education.  Here another 21 young persons completed the course.
As the Ministry of National Mobilisation continues to expand the program, the piloting of this new initiative is expected to provide an initial 14 young males with training opportunities in the field of music.  The already identified young males, have either, by way of registration with the YES program, or through application to the Police Force, or having been a participant in the Band's summer program, shown interest in wanting to be a member of the Force.
It is expected that these young males will be put through the paces of the Band's complete program and as such be in the pilot of the feeder system being conceived as a nursery for the Police Band, with successful candidates being enlisted into the Royal St. Vincent and the Grenadines Police Force after the year's completion on the YES program.
One may ask why the gender bias?  It is evident from almost all reports that males are being marginalised and are often not catered for by way of programs.  The Ministry has made a deliberate attempt to engage the young males of this nation to ensure their full participation and contribution to national development.  It is therefore expected that once this pilot is successful, that going forward, it can be expanded, and thus include females.
Ambassador Baushan Ger of the Republic of China on Taiwan complemented both Ministries on the effort of collaboration, and expressed his country's satisfaction with the way in which the Ministry has been handling the YES program.  The Ambassador said, "let's not only congratulate the possible twelve (12) participants to be attached to the Police Band, but also cheer for the many YES participants, for their achievements over the past 17 years." He further stated that "I want to assure you that the Government of the Republic of China (Taiwan), will continue to support the YES Program, as we have both witnessed the positive benefits it has brought to the young people of this country. I also want to give credits to the staff of the Ministry of National Mobilisation for their outstanding execution of the Program."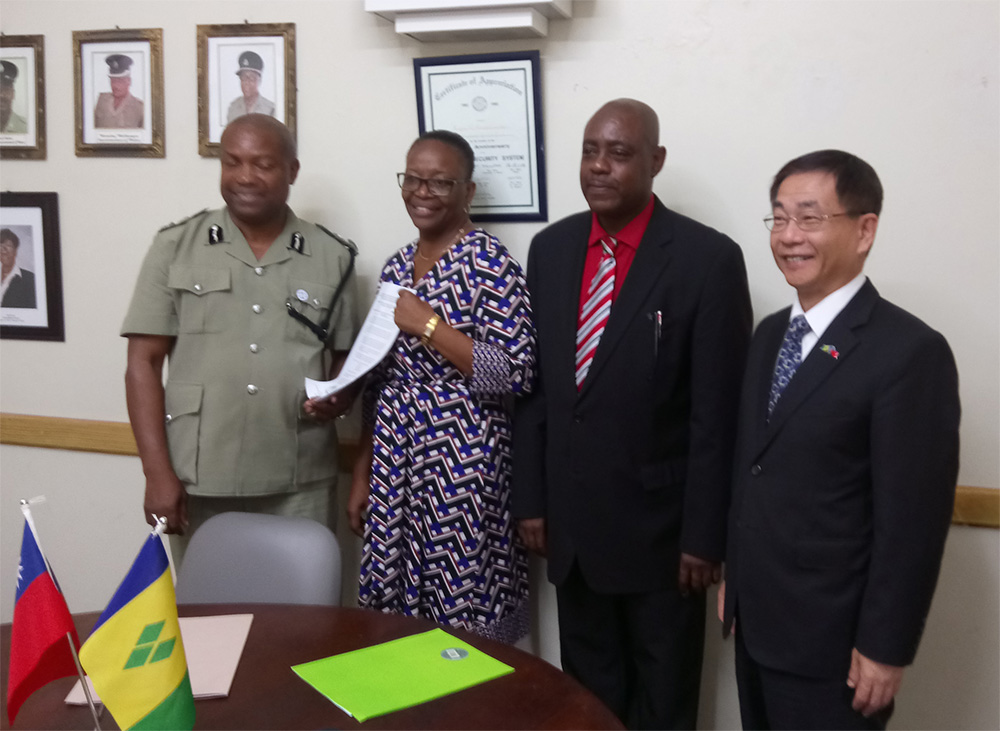 Both the Commissioner of Police Colin John and the Permanent Secretary Nerissa Gittens-McMillan signed on behalf of their individual Ministries and was witnessed by both the Minister and the Ambassador.


SOURCE: Ministry of National Mobilization, Social Development, Family, Gender Affairs, Persons with Disability and Youth