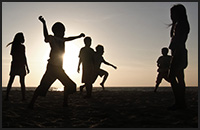 Minister of Social Development, Frederick Stephenson, said that a number of Laws addressing issues related to Children here are expected to take effect during this year.
Minister Stephenson said that this comes as his Ministry seeks to better address all aspects relating to children Issues.

He said that the new laws will also compliment the work which will be done by the newly implemented Child Development Division.

Minister Stephenson notes that the Ministry is also finalizing the OECS Juvenile Justice Reform Bill among other legislation, as the nation moves forward.
SOURCE: NBC